Event orchestration | 4 December 2018
20 Dallas Event Venues Your Attendees Will Love
From aerial performance spaces to the world famous AT&T Stadium, there are plenty of Dallas event venues to choose from. But when hosting a gathering your guests won't soon forget, you'll want to choose a location with a little extra pizazz. Take a look at this list of 20 Dallas event venues for some great ideas.
The venue is a critical component of a successful event. But in a big city like Dallas, TX where event venues are a dime a dozen, how do you pick the perfect location for your company meeting, social gathering, or training seminar?
You could use one of the numerous tools for sourcing event venues. Or you could just read this blog. We've scoured the internet for the best event venues Dallas has to offer and narrowed the list down to 20 top options. If you're hoping to find a unique and functional location for your next Dallas area soiree, you've come to the right place.
Source: Marie Gabrielle
Location: Harwood District
Capacity: 800
Nestled in one of Dallas' top neighborhoods, Marie Gabrielle Restaurant and Gardens is a beautiful oasis amongst the hustle and bustle of a vibrant city. The 1.5 acre garden is a peaceful retreat suited to a wide range of events and fashioned with ancient art, magnificent foliage, and a spectacular reflecting pool. But the grounds aren't the only intriguing aspect of this location, the food is also excellent. Invite your guests to a unique combination of stunning scenery and mouth watering cuisine at Marie Gabrielle Restaurant and Gardens.
Source: The Granada Theater
Location: Lower Greenville
Capacity: 1000
The Granada Theater is a historic, WWII-era building that was once a movie theater. Ownership changed hands multiple times throughout the 20th century, but in 2004 the space was reestablished as a Dallas, Texas live music staple. Many of the world's brightest stars—from Adele to Bob Dylan—have graced its stage. High production, rock-n-roll concerts aren't the only events hosted at the Granada Theater; the venue is also available for private events. Your guests will love the classic architecture and star-studded history. When they get hungry, take them next door to Sundown, Grenada's neighborhood farm-to-table restaurant. The Granada Theater is perfect for any event planner looking to host a rockin' good time.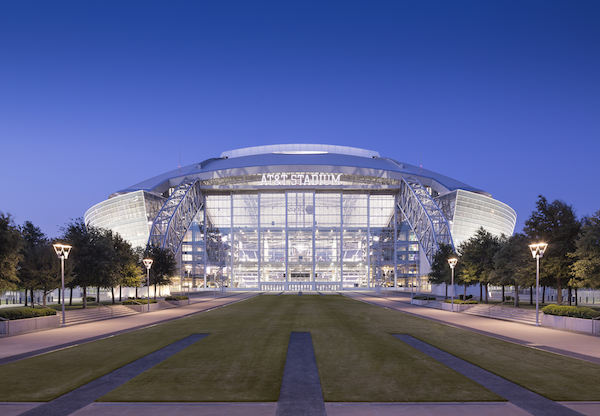 Source: AT&T Stadium
Location: Arlington, TX
Capacity: 105,000
AT&T Stadium, home of the Dallas Cowboys, Monster Jam rallies, and more of America's most well known events, is also available to host your get together. When you need big—NFL Sunday big—this venue can accommodate with room for over 100,000 people. But intimate gatherings are welcome too. In fact, the stadium has 22 flexible event locations, ideal for company meet-ups, training seminars and even birthday parties. When it comes to event venues in Texas, it doesn't get more grand or state-of-the-art than AT&T Stadium.
Source: The Room on Main
Location: Downtown
Capacity: 320
The Room on Main is a fully restored, historic ballroom located on the sixth floor of the Dallas Arts Center. The natural wood floors, antique chandeliers, and thirty foot ceilings give the space a classy feel. The 15 foot windows allow for spectacular views of downtown Dallas, and modern conveniences such as valet parking, top-tier catering options, and top of the line AV equipment are available. Whatever event you plan on hosting—from corporate shindigs to church functions—The Room would make for an excellent location.
Source: Texas Ale Project
Location: East Dallas
Capacity: 500
Give your guests something to talk about and host your next event at the Texas Ale Project—the first Dallas brewery since prohibition to be built from the ground up. The 11,000+ square feet of floor space includes the actual brewery where all the magic happens, the T.A.P. room, and a spacious, paved beer garden with great views of downtown. Every kind of event is welcome in this pet-friendly space, which includes conveniences such as AV equipment, street parking, and WiFi. Keep it local and host your next meetup in one of Dallas' top craft breweries.
Source: The Quixotic World
Location: Deep Ellum
Capacity: 248
No matter what kind of event you plan to host — corporate get together, product launch, birthday party — The Quixotic World will help you make it unforgettable. From the silhouette shadow dancing screen to the throne adorned stage, everything about this venue is unique and screams originality. But, that doesn't mean your rental won't include traditional conveniences as well. Quixotic provides tables, chairs, and linens, HD projectors, and a quality sound system. Finding event venues can be difficult, but finding a truly unique space is always a testing challenge — until now, at least.
Source: Sixty Five Hundred
Location: Love Field Airport
Capacity: 1000
Built in 1952 as a warehouse for General Electric, this 20,000 square foot venue strikes a perfect balance between classic industrial feel and modern convenience. Your guests will be both awed and comfortable inside this space, complete with 20 foot pinewood ceilings, a wide open layout, and in-house catering. This venue is truly a beautiful and versatile space. Previous events hosted here include, corporate gatherings, fundraisers, social get togethers, and even weddings. Sixty Five Hundred also gives event planners the option to customize the size of their rental to their unique needs. Meaning smaller, more budget conscious events don't need to rent the full 20,000 square feet if they don't want to.
Source: Soar Creative Studios
Location: East Dallas
Capacity: 250
Soar Creative Studios is ideally suited to artistic meet-ups, conferences, and trainings, and is surprisingly affordable for gatherings of up to 250 people. It has a full kitchen, outdoor patio, and mirrored studios for both dance and aerial aerobics. You'll also have access to AV equipment, multiple rooms for breakout sessions, and WiFi. But what really makes Soar worth considering is the option to hire Soar-certified, professional aerial performers to serve and entertain your guests during your event. Have you ever been served drinks via swinging aerial artists? Now's your chance.
Source: The Empire Room
Location: Design District
Capacity: 600
The Empire Room is putty in an event planners hands. What kind of event do you plan to host? Corporate meeting or seminar? Fundraising gala or family reunion? This space can handle just about anything. The main building is completely tailored to custom production and even includes indoor vehicle access. Car show, anyone? Take your guests outside and host them on the patio, an open air space with stunning views of the downtown Dallas skyline. If you really want to treat your guests, bring in a DJ or band—the Empire Room partners with one of Dallas' premiere AV companies so the sound, video, and lighting at their events are always on point. There's a lot to get excited about at The Empire Room.
Source: Arlington Hall
Location: Turtle Creek
Capacity: 1000
This "timeless treasure" is six spaces rolled into one. Beyond the historic main building that's hosted some of the world's top achievers like President Franklin D. Roosevelt and blues guitar legend Stevie Ray Vaughan; a formal garden, two terraces, a stately portico, and the Allman Pavillion are also available to rent. To top it off, catering is provided by an award winning chef. Turns out any event at Arlington — from non profit charities and corporate parties to retirement celebrations and sit-down luncheons — is even classier than it sounds.
Source: Gas Monkey
Location: Northwest Dallas
Capacity: 2,000
A full bar, incredible stage, and world class AV equipment means Gas Monkey Live has the resources to host amazing corporate events, rock-n-roll shows, or fundraising galas. Plus, the atmosphere is warm and rustic; the room layout is flexible and can accommodate both intimate gatherings as well as all-out parties; the amenities are numerous and include full catering options, comfy and fashionable decor, and a professional event staff. Who knows? Your next event might just need a little "monkey".
Source: Kay Bailey Hutchison Convention Center
Location: Downtown
Capacity: 11,000
When it comes to Dallas event spaces suitable to large gatherings, the Kay Bailey Hutchison Convention Center is tough to beat. There's plenty of space for your trade show, conference, or concert, and out of town guests will have an array of conveniently located lodging and dining options during their stay. But this versatile venue can also host small meetups in one of its 88 meeting rooms. Whether you plan to go big or keep it small with your next event, take a serious look at the KBH Convention Center.
Source: D.E.C on Dragon St.
Location: Design District
Capacity: 140
If you were to pick one word to describe your next event, what would it be? If you said sophisticated, elegant, or chic, you definitely need to consider hosting it at the D.E.C on Dragon St. The indoor space, complete with a full bar, is luxurious and sure to inspire networking at your next event. The 3,500 square foot rooftop deck offers some of the best skyline views that Dallas has to offer, and with help from the D.E.C. professional event planners your next event may be the best one yet. You won't regret hosting your corporate meeting, social gathering, or wedding reception at this venue.
Source: Perot Museum
Location: Victory Park
Capacity: 1,500
The Perot Museum offers all five of it's levels for your next event — rent just one or the entire building. Either way your event is sure to be a success. While many venues offer beautiful scenery, few offer the entertainment options that Perot does. Allow your guests to test their running skills against a T-Rex, view a 3D presentation in the The Hoglund Foundation Theater by National Geographic, or challenge each other in the robot arena. From elegant corporate parties to family-friendly events, the Perot Museum offers unmatched entertainment value.
Source: Dallas Zoo
Location: Marsalis Park
Capacity: 850
What started in 1888 as a small wildlife attraction featuring two deer and two mountain lions, has since grown into Texas' largest zoo with over 2,000 animals and one million annual guests. It's also an amazing event venue. The Dallas Zoo offers six different spaces, The Flamingo Room and Deck is perfect for corporate events; The Giants of the Savanna attraction allows you to host your guests alongside elephants, giraffes, and zebras; and the Wildlife Amphitheater is perfectly suited for events with 500 or fewer attendees. Whatever your event's goal and audience, the Dallas Zoo can likely accommodate.
Source: The Magnolia Hotel
Location: Downtown
Capacity: 250
Magnolia Hotels are known for their attentive staff and luxurious accommodations. The Dallas location is no different, making it a prime location for your next event. There are eight individual event spaces totaling 8,000 square feet. The Lounge is ideal for intimate gatherings, while the Pegasus Room holds up to 225 guests and is equipped with a world-class AV system, exceptional catering options, and a host of friendly, helpful event professionals. And since this space is also a hotel, out of town guests can stay comfortably and conveniently in one of Magnolia's 325 rooms.
Source: Rosewood Mansion on Turtle Creek
Location: Uptown
Capacity: 600
Once the home of a wealthy cotton tycoon, the Rosewood Mansion is now a luxurious hotel, gourmet restaurant, and amazing event venue. It boasting 15 beautiful spaces in the private 4.63 acre estate, including the Pavilion Ballroom, Mansion Garden, Wine Cellar, and FDR Room. Every event, from business gatherings to wedding receptions, has access to WiFi, state-of-the-art AV and lighting equipment, as well as in-house professional technicians. Host your next meeting inside this Dallas historical treasure.
Source: Reunion Tower
Location: Downtown
Capacity: 300
Elevate your next event, literally, by hosting it at Reunion Tower. This unique venue sits 560 feet in the air and treats guests to unbeatable, 360 degree views of the city — a perfect backdrop for your company's next celebration or private social gathering. As the event planner directing event strategy, you can choose between the Tower's three levels, Cloud Nine offers a revolving floor so your guests can see Dallas from every angle; the GEO-Deck will give your attendees an indoor and outdoor experience; and attendees will be in awe of Five Sixty's airborne restaurant with floor-to-ceiling windows. No matter which level you choose, your event is sure to be fabulous.
Source: 2616 Commerce
Location: Deep Ellum
Capacity: 1,000
Can't decide whether to host your next event indoors or out? At 2616 Commerce you don't have to choose. This venue has two unique indoor spaces and a rooftop deck for rental, with previous gatherings ranging from record release parties and film festivals to product launch events and training conferences. No matter your event, 2616 is ready to satisfy your attendees with it's rustic elegance, maple wood dance floor, and unique, original 1945 Coca-Cola mural.
Source: Clio
Location: White Rock Lake
Capacity: 500
66 acres of manicured gardens, five unique event venues, and a complimentary event manager make the The Dallas Arboretum a worthy location for your next corporate meeting, social gathering, or knot-tying ceremony. Treat guests to a party inside the historic DeGolyer Estate, a 21,000 square-foot mansion built in 1940. For larger events, rent Rosine Hall with its full sound system, WiFi, and onsite security. Or, go au naturel and simply host your event in one of the property's lush gardens—you can't go wrong with the Dallas Arboretum as your location.
Wrapping Up: The Perfect Dallas Event Venue for You
Choose from the above Dallas event venues and your next gathering is sure to be one for the ages. Whether you plan to host a corporate meeting, retirement soiree, or an all out, international conference, one of these locations will fit the bill.
Take note, while the event location is important, so is your team's ability to plan and manage the gathering successfully. Our event management software can help with that. Request your free demo today to see how our solution makes planning and managing events much more efficient!
Stay up to date with Bizzabo's latest.
You may also
be interested in