30 Denver Event Venues Your Attendees Will Love
Interested in planning an event in the Mile High City? Check out this list of 30 awesome Denver event spaces. Among these venues, you'll find a butterfly oasis, a lakefront boathouse, a speakeasy, and everything in between.
Founded as a gold-mining town, Denver's striking mountain ranges and untouched wild beauty provided the perfect landscape for settlers once the rush died down. Because of its prime location, Denver would go on to provide ample opportunity for convenient transport for a plethora of significant historical events. From processing minerals during World War II to serving as a hub for federal activity, Denver has seen a variety of industries pass through its gates over the years.
Today, Denver remains a city of innovation and is quickly rivaling cities like San Francisco as a center for tech communities and major corporations. Once filled with starry-eyed prospectors, Denver continues to serve as a treasured center for cutting-edge movements and events.
If you're planning an event in the Denver areas and are interested in venues, check out the variety of spaces available on this list. Or, if you're just gathering ideas, for now, be sure to compare your choices to the data saved in your event management software so you can strategically organize your next shindig.
Source: Here Comes the Guide
Location: Auraria, Northwest
Capacity: 1,200
Mile High Station was formerly the Midwest Steel and Ironworks building and at one time employed hundreds of Colorado craftsmen. As you can tell from the capacity size, the venue is huge. In fact, at one point in this venue's history, large-scale ships were built inside of it. At this Denver event space, you'll find a large open floor plan with a mezzanine, kitchen, brick bar, and updated amenities like plasma televisions.
Source: Men's Vows
Location: Washington Park, Southeast
Capacity: 150
The boathouse was recently renovated and now includes state-of-the-art technology you can add to your rental package. Known for its waterfront views, expansive flowerbeds, and broad landscape, this is one Denver venue you can't miss. Note: Although they allow events to serve wine and beer, no hard alcohol is allowed on the premises. You'll also need to bring your own licensed bartender.
Source: Yelp
Location: Lyons
Capacity: 200
Home to organic flower gardens and plenty of friendly critters, the Lyons Farmette offers outdoor spaces for events in the greater Denver area. They family-owned farm will often help supply fresh fruits and vegetables for events at their venue. Adults and children are welcome to pet the alpacas.
Source: Visit Denver
Location: CBD, Northwest
Capacity: 300
Seawell Ballroom makes its space easy to transform by offering customized floor plans, theatrical-grade lighting systems, and a variety of room drapings. Their other stand-out features include oversized HD television sets and food & beverage service onsite. Tall ceilings and abundant floor space round out the experience at this Denver event venue.
Source: Wedding Spot
Location: Washington Park West
Capacity: 100
If you book your event at this location, you can expect to see lots of natural light, exposed red brick walls, hickory floors, and a large, open wood beam ceiling. Amenities include a fireplace, climate-control tools, and a sound system. Moreover, the Studio is located on streets with free parking and can be accessed via public transport—talk about convenience.
Source: Custom Weddings of Colorado
Location: Capitol Hill
Capacity: 200
This mansion offers the use of indoor and outdoor spaces for events — outdoor celebrations take place amongst a patch of forested land, giving this urban location a nature-centric focus. As you might expect, this mansion has plenty of marble columns, restored woodwork, and historical elements trivia fanatics will appreciate. They typically offer events seven hours of rental time with the option to add on more, as needed.
Source: Share My Space
Location: CBD, Northwest
Capacity: 50-75
This custom-furnished, modular space hosts events of all kinds. The Wright Room includes a lounge, a dining area, and a copper-topped bar. The floor-to-ceiling windows make it so nighttime event attendees can benefit from the starry view. The building itself was constructed in 1889 and has ties to brewpub pioneer, John W. Hickenlooper. The Wright Room hosts events from morning to night and can customize its menu accordingly.
Source: Wedding Spot
Location: Westminster
Capacity: 500
The Butterfly Pavilion allows guests to hang out with actual, real butterflies. This indoor, tropical rainforest offers plenty of seating arrangement options as well as butterfly species from all over the world. While they host a good number of weddings, their site also boasts other events like children's parties, options for catering, and onsite experts to give you the inside scoop on these colorful, floating creatures.
Source: Eater Denver
Location: Five Points
Capacity: 280
Founded by a husband and wife duo, this craft winery is named after a lovely golden retriever that was once their family pet. Bigsby's Folly is characterized by its unique tasting rooms, tours, and custom blending sessions. They also serve food and offer different packages for beverage services. For that extra, personalized touch, event organizers have the option to customize the labels on wine bottles for the occasion.
Source: Denver Westwood
Location: Southwest
Capacity: 200
With its European-inspired decor and multiple space facilities, this distillery is most famous for its gin and vodka selection. For event planners that choose the Archetype Distillery, the venue will include an advanced audio-visual system, a second bar, a catering and prep kitchen, and venue-prepared table set-ups. They have a preferred vendor list but you're also welcome to bring your own.
Source: Wedding Spot
Location: Southeast
Capacity: 400
The Soiled Dove Underground is an intimate concert venue underneath the Tavern Lowry. This Denver space offers three levels of tiered banquet serving, a dance floor (disco ball included), and large, full-service bar in the foyer with food menus ranging from casual to upscale. And, if you're looking to boogey, they'll provide an in-house DJ for your event.
Source: Bergamia
Location: Five Points, Northwest
Capacity: 30
Spas provide a space where guests can awaken their bodies, reduce pain, and relieve stress. If that's the goal of your next event, Bergamia Spa, Apothecary, and Tea offers just that. Their menu includes many natural, holistic treatments, while offering sessions that can be booked for groups parties. Plus, this gender-inclusive gathering space is stocked with their own special teas and light snacks.
Location: Lodo, Northwest
Capacity: 150
Union Station, a prominent fixture of the Denver cityscape, offers multiple opportunities for event hosting within their walls. Event planners can choose from seven different venues: Terminal Bar Beer Hall, Terminal Bar, Cooper Lounge, Shuffleboard Platform, The Great Hall, Terminal Bar on the Plaza, and the Gallery Level. Each offers its own unique personality and perks inside this impressive Denver venue.
Source: Eater Denver
Location: Ft. Collins
Capacity: 50
The Denver location of this flagship brewery showcases small-batch and sour beers that can't be tasted anywhere else. The 2,000-square-foot facility uses real oak barrels for aging onsite. Their rooftop lounge known as The Woods also offers mountain views, cocktails, and a full-service restaurant with menu items created for beer pairing.
Source: Hilton Garden Inn
Location: Downtown
Capacity: 1,200
Located next to the convention center, this Hilton Garden Inn has access to the nearby light-rail system, providing a convenient location for any event. You can book rooms ranging in purpose from business meetings to cocktail hours to weddings. If you need help planning or executing your next event, their on-site team can coordinate menus, service, and set up the technological components for you.
Source: Unveil Events
Location: Speer
Capacity: 120
Located inside the Irish Rover Pub, the Limerick Room is the ideal space for lunches, graduations, and cocktail parties alike. If you're interested in adding an outdoor component to your space, they have a rooftop patio available and open for food and drinks. They typically serve brunch, dinner, and cocktail hours. They pride themselves on keeping a wide variety of traditional Irish liquors well-stocked behind the long oak bar. Bonus: There are no room fees.
Source: All Events
Location: Arvada
Capacity: 220
This Denver event venue was built in 1874 and features hand-painted gold ceilings and Swarovski crystal chandeliers. This space has a dedicated stage area for live music—dancing is highly encouraged at Gallery 1874. For your convenience, event rentals like tables, chairs, linens, and technical equipment are all available. A dedicated catering manager will work with you to customize the menu as well to ensure your next event is a success.
Source: Yelp
Location: Northwest
Capacity: 200+
Serving as both a nonprofit resource center and art gallery, the Fox Street Compound aims to foster creativity and community among local Denver residents. As an organization, Fox Street provides local artists the resources they need to start and run the business side of their craft. For event organizers, The Compound offers a venue unlike any on this list.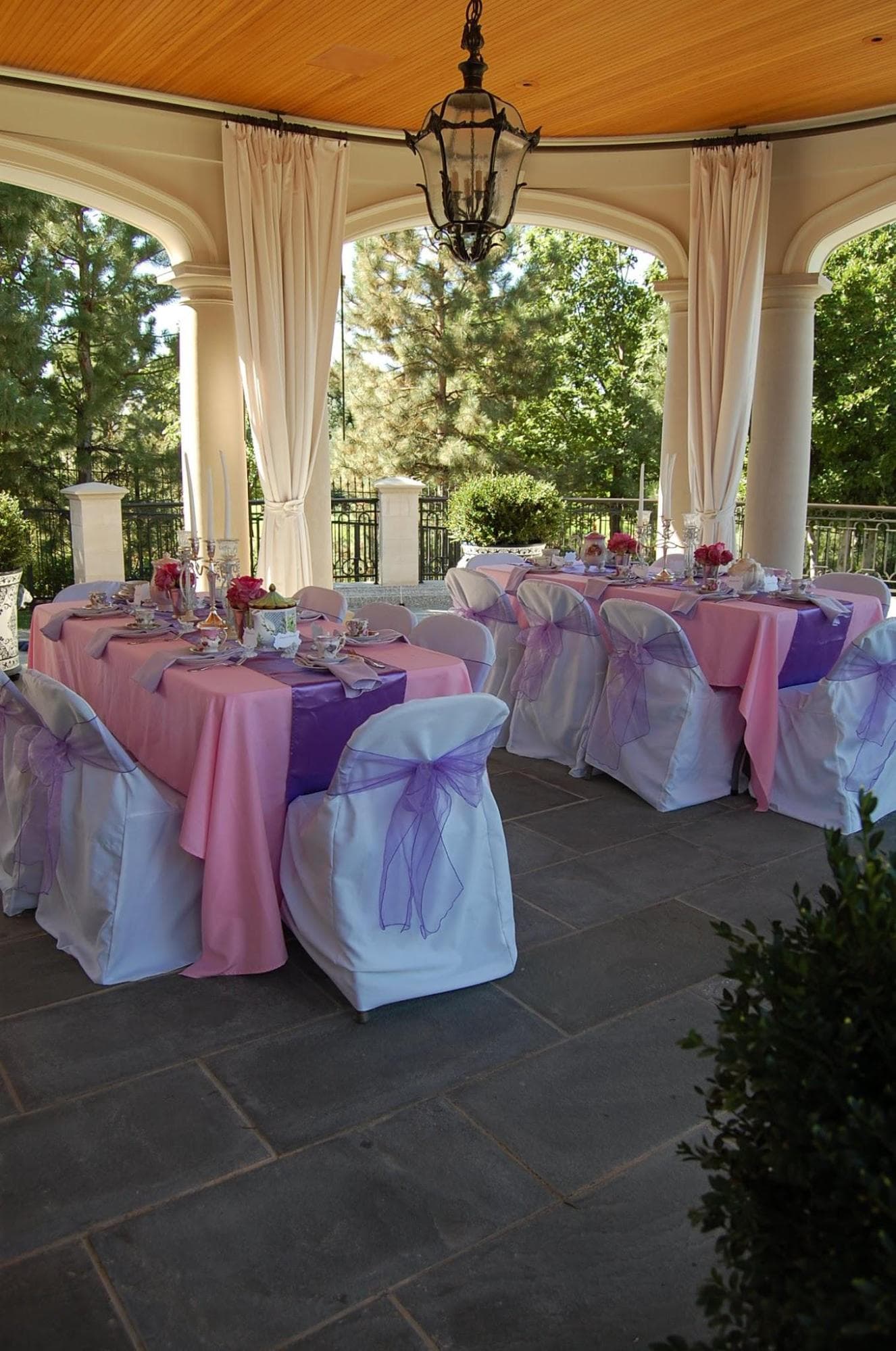 Source: Wands and Wishes
Location: Park Hill, Northeast
Capacity: 50
Definitely, the most family-friendly option on our list, Wands & Wishes has something for kids of all ages. While they do offer their costumed princess performers for parties offsite, this party planning company has a location of its own. You can choose from princesses, fairies, adventure heroes, mermaids, and holiday characters to host activities and play games with younger guests. Their corporate and school events usually include fundraisers, movie nights, cocktail parties, and family-friendly company picnics.
Source: Wedding Spot
Location: Westminster
Capacity: 450
In addition to its luxe interior, the Church Ranch Event Center has a forested garden area, ample green lawns, and a fountain-filled pond. Booking this venue for your next event means you'll get to take full advantage of their event coordinating team and bar. Not to mention, the indoor space is open-air and sits in front of a spanning mountain range.
Source: Yelp
Location: Five Points
Capacity: 350
Great Divide Brewing Co. has four different private event options for organizers. The Bottling Hall is an open area of production for a very brewery-esque feeling. The Mezzanine overlooks the production area and out into the mountains. The Barrel Bar is their smallest and coziest space. And finally, they offer private tours of the brewery complete with plenty of samples.
Source: Field House
Location: Northwest
Capacity: 250
Perfect for sports fans, the Field House Event Venue overlooks Denver's most famous sporting arena. Their main space has an open floor plan and includes convenient perks, including 78 parking spaces and a complete selection of electronic equipment for audio and visual presentations. The team at Field House welcomes outside caterers, but will gladly supply corn hole boards and even offer discounts for non-profit organizers.
Source: Artwork Network
Location: Southwest
Capacity: 150
Artwork Network's mission statement is dedicated to helping all artists share their stories, cataloging their expression for future generations. Because of their emphasis on local culture, this Denver event venue provides a truly unique experience for those who want to show off hometown pride. They also offer an online marketplace so guests can purchase their favorites even after the event is over.
Source: Molly Brown Summer House
Location: Southwest
Capacity: 180
This venue is named after none other than the famous Titanic heroine, anthropologist, and titular musical character, Molly Brown. If you plan your event at this venue, you'll have access to nice add-ons, including smart screen TVs, BBQs, and white linens. Their grounds, deck, and patio spaces are all available. If you'd like to check it out ahead of time, schedule a guided tour with award-winning storyteller and venue expert, the actual granddaughter of Molly herself.
Source: Eater Denver
Location: Baker
Capacity: 35
If 12 taps of beer, a personal bartender, and unlimited draft sounds good for your event then Crazy Mountain Brewery premiere speakeasy is the venue for you. This Denver space has its own private entrance and features a rustic wood-log bar. Crazy Mountain Brewery is open seven days a week and regularly plays host to events like beer pairing dinners, birthday parties, and fundraisers.
Source: Eater Denver
Location: Five Points, Northwest
Capacity: 150
Sophisticated Southern is the theme at Julep. This venue is the perfect combination of locally grown Denver produce and revamped home cooked meals. With a patio and mezzanine to boost, your attendees will be sure to enjoy backdrop views of the nearby mountains.
Source: TripAdvisor
Location: North Washington
Capacity: 1,000
This family-owned winery focuses on providing Denver with traditionally handcrafted wines. Take note, their facilities do not use chemicals or sulfites in their products and offer tours of their process for those interested in natural wines. Conveniently, Balistreri's has a tasting room and vineyard 10 minutes away from downtown Denver, ensuring commuting is easy and safe for attendees.
Source: Venue Viking
Location: Southwest
Capacity: 250
Built in 1918, the recently rebranded Studios Denver used to house a furnace manufacturing company and maintains its industrial vibe to this day. The space features exposed brick, contemporary decor, and corrugated garage doors that make for dramatic entrance ways. Patrons rave about the ease and flexibility of working with the venue itself, hosting a wide range of events, from  weddings to non-profit fundraisers alike.
Source: Wedding Spot
Location: Parker
Capacity: 200
Villa Parker promotes the infusion of Tuscan culture with the Rockies. This Mediterranean estate features a grand entrance way with vibrant gardens outside and abundant archways inside the villa itself.
Source: Ophelia's Electric Soapbox
Location: Five Points, Northwest
Capacity: 100
Inside this upscale gastropub featuring boudoir-style decor, the former brothel now hosts parties of 16 or more to host their private gatherings. The venue itself includes a bar, restaurant, concert space, and even a dance floor on the lower level that plays host to live music every week. Additionally, organizers have the option to choose from dinner, brunch, and happy hour options for their Denver event at Ophelia's..
Finishing Up: Finding an Amazing Denver Event Venue
We know there are lots of things to consider when planning a great event, but with this compilation of event venues in Denver, you'll be one step closer to organizing the perfect event! Be sure to select a venue that can be customized to your event strategy and provides ample opportunity for lasting memories.