UNLOCKING POWERFUL DATA
With an all-in-one solution, HubWeek could finally gain clarity in their event data. Access to Bizzabo's contact management and analytics tools provided the foundational resources for organizing, tracking, and measuring key metrics.
"Bizzabo helped us understand what data is useful to have so that we could make good business decisions. They also showed us how we can use the data that's available to us to guide our goals and inform our strategy for future events," Olivia said.
In addition to quantitative data like registrants and attendees, HubWeek leveraged Bizzabo's event survey tool to capture rich qualitative feedback from their attendees.
"In order to measure that people had a really amazing time at the festival, we typically use post-event surveys," Olivia said.
Using Bizzabo's survey tool, HubWeek could create rich feedback forms to visualize the attendee journey and pinpoint areas for improvement.
"We send out a survey after the festival and ask a bunch of questions that include anything from did you learn something new, how was registration, which sessions were your favorite, what was the most amazing experience that you had at the festival, and so much more," Olivia said.
With a large swath of quantitative and qualitative data at their fingertips, the HubWeek team could make actionable decisions for future events.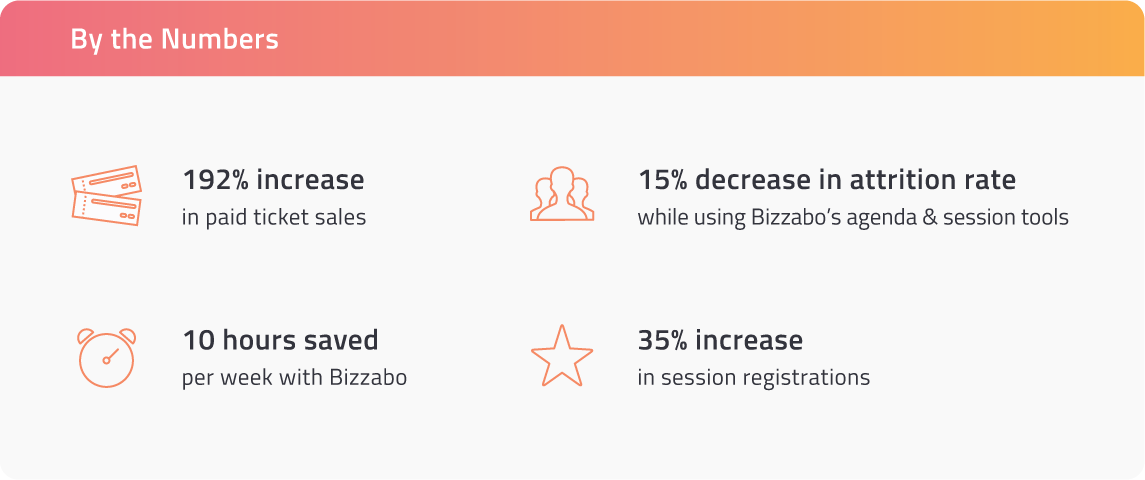 DRIVING ATTENDEE ENGAGEMENT
The way HubWeek creates an engaged and thriving community is through captivating events and activations. A must-have feature to power their event strategy was customizable registration and ticketing options. "Our event this year is very different from the event we held last year. We used Bizzabo both years and it has been a great platform for both events," Olivia said.
Accommodating multiple ticket types allowed HubWeek to deliver one-of-a-kind experiences to event attendees.
HubWeek's brand identity needed to translate in a seamlessly designed agenda that could elevate the event experience. Bizzabo was able to deliver an easy-to-use agenda tool that didn't require developer resources or technical skills.
"My favorite feature of the Bizzabo platform is the agenda builder," Olivia said. "The platform is super streamlined and simple. And I also really loved that we were able to take the Bizzabo agenda widget and embed it in our own website. This enabled one web experience for our customers."