SCALING OPERATIONS AND SURFACING MEANINGFUL DATA
Having access to accurate data in a timely manner is crucial to the Gainsight team. Bizzabo helps the team surface insights and sync data at scale.
By far one of the greatest benefits of Bizzabo for Gainsight is the ability to streamline registration management through Bizzabo's open API and integrations. The Gainsight team integrates Bizzabo with Marketo, their marketing automation platform, and Salesforce, their CRM, for a seamless flow of information between these platforms.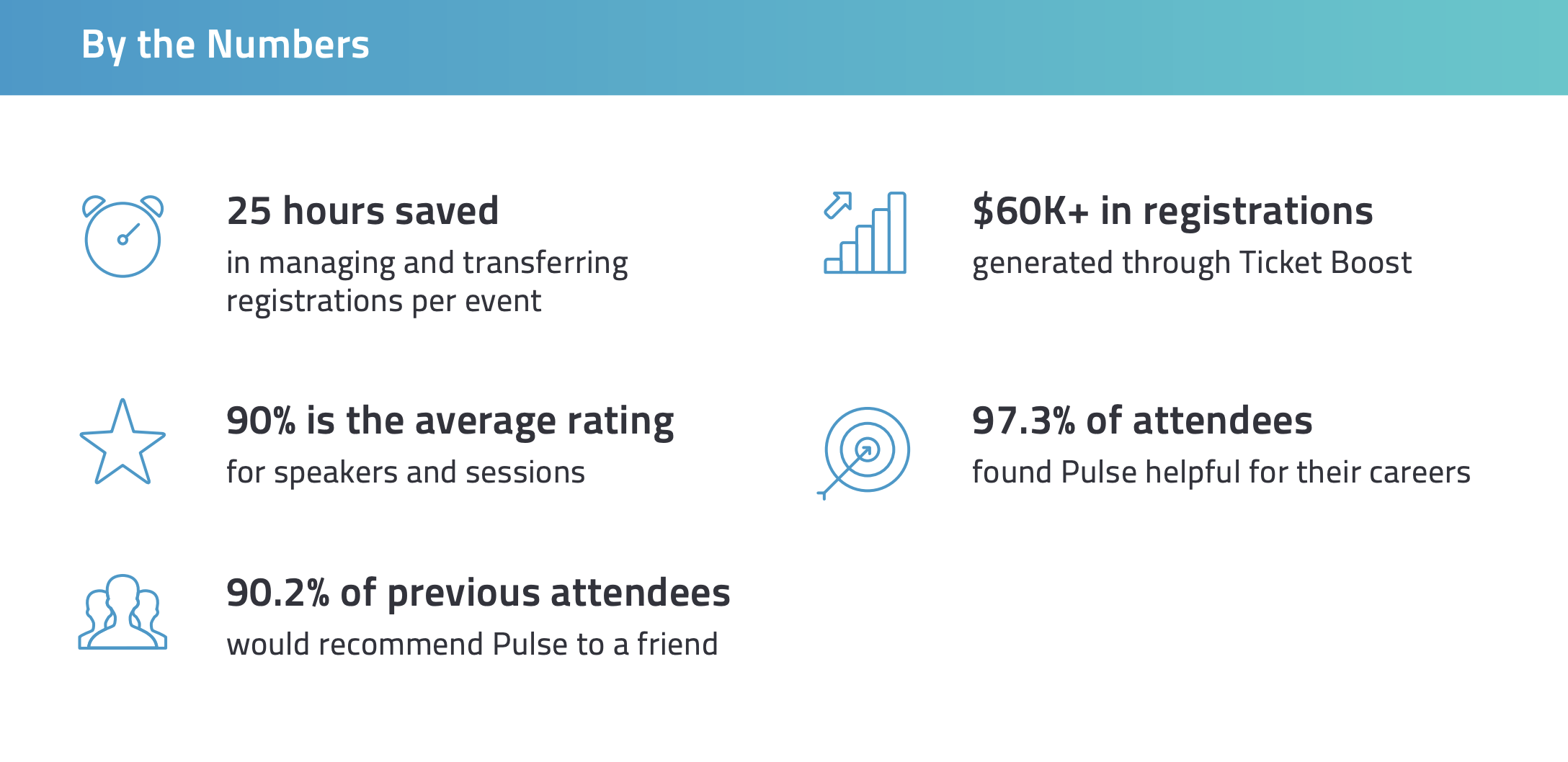 The ability to sync data through Bizzabo enables Gainsight to quickly update registration information between different platforms. As Matt puts it: "In previous worlds this would require that we make the registration changes in our events system and then in Marketo or Salesforce. Each time this would take 5 or 10 minutes, which quickly added up. With Bizzabo, we're able to automate this process."
Through Bizzabo's session registration tool, the Gainsight team can better balance the volume of attendees at different sessions, understand which sessions are most popular and plan their venue layout accordingly. "We can typically guess which sessions will be the most popular," says Matt, "but with session registration, we have actual data."
Matt and Lauren are able to draw meaningful conclusions about this data—in addition to data from registrations, ticket sales, and attendee engagement—with Bizzabo's Event Analytics Dashboard. "There is a really streamlined process," says Lauren, "in terms of viewing and analyzing revenue capture on the back-end."
STREAMLINING EVENT PROMOTION AND REGISTRATION
Embeddable widgets, the agenda builder and promotional tools like Ticket Boost help the Gainsight team effectively promote their event.
The Gainsight team uses Bizzabo's embeddable widgets to quickly add essential event website functions—like registration, speaker profiles, and sponsors—to their custom-built Pulse websites. Though these widgets may live on several different event website pages, all it takes is updating one widget to update the rest. "One of the most valuable things about Bizzabo," says Lauren, "is how simple it is to do what I need to do."
One valuable widget is the event agenda created with Bizzabo's event agenda builder. The Gainsight team has found it not only helpful for organization, but also for learning about attendee preferences. "The ability to add multiple tags and track different things in the agenda builder was a great help and boosted the value that we got out of the platform," says Matt.
Ticket Boost—which leverages the power of viral marketing to incentivizes attendee promotion—is another feature that the Gainsight team found to be a great value-add. For Gainsight Pulse 2019, the team was able to generate over $50K in revenue with Ticket Boost months before the event.
"We saw a lot of uplift with Ticket Boost," says Lauren, "which is a feature that I've not found with other platforms."