If San Diego is the destination for your next event, first of all, lucky you. Second of all, let us help you with this list of 21 San Diego event venues, from the tried-and-true to the hip-and-new.
San Diego is a popular destination for events, and no wonder. The moderate climate makes it a delightful destination year-round; the city is super-walkable; and did we mention the beach?
Of course, you'll need an excellent venue to match your excellent event location, so we've rounded up this list of contenders in various sizes, locations and tastes for any possible event on your agenda — giant conferences and exclusive VIP soirees alike.
San Diego Event Venues
Photo Source: The Prado Balboa Park 
Location: Balboa Park 
Capacity: 2,500
Architecture and history buffs will love an event at the The Prado at Balboa Park, which was originally built for the 1915-16 Panama-California Exposition to celebrate the opening of the Panama Canal. A careful three-year renovation maintained the integrity of the Spanish, Moorish, and Mexican architectural design that includes two dozen original, hand-painted, wooden stencil designs. The various indoor and outdoor event spaces—22,000 square feet in all—offer all sorts of options for different sized groups. 

Photo Source: Fleet Science Center 
Location: Balboa Park 
Capacity: 10–1,000+
An event at the 30,000-square-foot Fleet Science Center could include anything from a sit-down dinner among interactive science exhibits (including a six-and-a-half-foot "tornado"), a lovely view of the Bea Evenson Fountain designed by noted local modernist architect Homer Delawie, or an IMAX movie in the 274-seat Giant Dome Theater. Plus, this location is minutes from downtown!
Photo Source: Horton Plaza Park
Location: Downtown
Capacity: 1,900+
This urban plaza includes three distinct rental spaces over its 53,000 square feet: a modern hardscape, a green historic park and a coliseum-style bowl.
The venue has historical clout. The first iteration of this National Historic Landmark was sold to the city of San Diego by its namesake Alonzo Horton in 1885; the recently restored adjacent Broadway Fountain was established in 1910; and John F. Kennedy spoke at the plaza during the 1960 election.
The plaza's newer features include an interactive pop-jet fountain and light sculptures.
Photo Source: USS Midway
Location: Downtown 
Capacity: 150–4,000
If you prefer unique venues to the traditional meeting rooms and ballrooms, consider the USS Midway—the United States' longest-serving aircraft carrier during the 20th century, in use from 1945-1992. It now serves as a museum and unique event venue with 50,000-square-feet of usable space on the flight deck alone, which doubles as an exhibit of 50 years of naval aviation.
Photo Source: BASSMNT 
Location: Gaslamp Quarter
Capacity: 20–1,000+
Take your event underground at this glam, sophisticated nightclub in a historic property of exposed brick and wood. Event-goers will enjoy the state-of-the-art audiovisuals, hand-crafted cocktails and, hopefully, the dance floor. At just a 10-minute walk from the convention center, this is an especially good option for a conference evening shindig.
Protip: While the Gaslamp Quarter is the official name of the area where BASSMNT and many of our recommendations are located, you'll sound like a local if you say "Gaslamp District" instead.
Photo Source: The Deck at Moonshine Flats 
Location: East Village 
Capacity: 150
For an event with a down-home vibe, consider the The Deck at Moonshine Flats, which features a stage, 16 LED screens and games like ping pong, corn hole and shuffleboard. Plus, you decide if your event is indoor or open-air thanks to a retractable roof. This event venue is three blocks from the San Diego Convention center and connects to its sister property Moonshine Flats, if you want to expand your event to include line dancing at a flashy honky-tonk. 
Photo Source: Miss B's Coconut Club
Location: Mission Beach
Capacity: 138
If you want to give event-goers serious San Diego beach vibes, then Miss B's Coconut Club situated on the Mission Beach boardwalk is a prime choice. The 2,329-square-foot space has fire pits and tiki-inspired decor and specializes in creative rum drinks to boot.
Fun fact: The fictitious "Miss B" hails from the early 20th century when a developer saw opportunity to further develop Mission Beach's "tent city," where residents literally lived in tents on the beach. "Miss B," a riff on "Mission Beach," was the face of that marketing campaign.
Photo Source: Petco Park
Location: Downtown 
Capacity: 46,000 
While Petco Park is best known as the home to the San Diego Padres, it doubles as an excellent event venue with a prime downtown location and a stunning view of the bay. You can rent pretty much any part of it—right field (capacity 1,640), rooftop (capacity 375) or the parking lots (capacity varies because, well, it's a parking lot).
They even offer interactive games, such as Whac-A-Mole, giant bowling and, naturally, an inflatable batting cage. Plus, a dedicated event management team is on staff to help.

Photo Source: Herb & Wood
Location: North Little Italy
Capacity: 230+
This overhauled 9,500-square-foot warehouse is now a restaurant serving upscale Californian-Mediterranean cuisine. Guests can enjoy the industrial sophisticate space of the dining area and wraparound bar or opt for the open-air patio. Be on the lookout for original artwork by their artist-in-residence.
Photo Source: Hilton Gaslamp
Location: Gaslamp Quarter
Capacity: 10–350
If the San Diego Convention Center is your hub for daytime events, the Hilton Gaslamp, located directly across from the convention center, is a prime spot for your evening ones. It has 13 event spaces within its 12,000-square-feet of event space, including an outdoor terrace in view of the convention center. Capacity varies according to space, with the Gaslamp Room and the outdoor terrace, at 3,500 and 5,000 square feet respectively, their most spacious offerings.
Photo Source: Mess Hall
Location: Point Loma
Capacity: 90+
The hip modern-day Mess Hall was once an actual mess hall in San Diego's Naval Training Station built in the 1920s. Now this former training station is called Liberty Station and serves as a mixed-use development that includes Liberty Public Market, the foodie center of Liberty Station where Mess Hall resides. 
First-rate cocktails are a focal point of Mess Hall, which prides itself in using local and small batch spirits and seasonal ingredients. Enjoy your cocktail in a clean, appealing space among quirky boat paintings by middle schoolers, which, due to their historic status, can't be painted over.
Photo source: House of Blues
Location: Downtown
Capacity: 1,500
Just ten blocks from the palm trees of the San Diego Convention Center sits House of Blues, a self-described "old Southern Delta juke joint." With its state-of-the-art lighting and sound, this venue can be a lively party or a not-so-staid corporate event.
The San Diego event space is part of the Live Nation special event family, so rest-assured, you're in good hands here.
Photo Source: Kimpton Hotel Palomar 
Location: Gaslamp Quarter
Capacity: 10–360 
For a glam hotel event experience, take over this Kimpton Hotel's 7,000 square-foot Level Four Pool Deck and Lounge and wow guests with views of the city. More traditional hotel event options are also available with an array of boardrooms, ballrooms and breakout rooms.
Expect a stellar sound system and art-filled rooms at this venue.
Photo source: Manchester Grand Hyatt San Diego
Location: Downtown
Capacity: 21–3,000
You have your pick of event spaces at this waterfront location: bars, lounges, restaurants and one of the largest ballrooms in the city: the 30,000-square-foot Seaport Ballroom.
The Hyatt's event space—totaling 316,000 square feet—is flexible too. Think ballrooms with column-free spaces, a multitude of breakout rooms, plus stunning views of the bay.
Photo Source: Moniker General 
Location: Point Loma
Capacity: 40 
For a more intimate event that exudes easy elegance, Moniker General—a bar, retail and coffee shop rolled into one—offers an enclosed patio with a custom-built wood and steel banquet table at its center. They supply the beverages, and you can tap any local restaurant you want to supply the food.
Bonus points for the complimentary parking around the corner at Liberty Station. For larger events, check out the flexible urban space of it its sister property, Moniker Warehouse.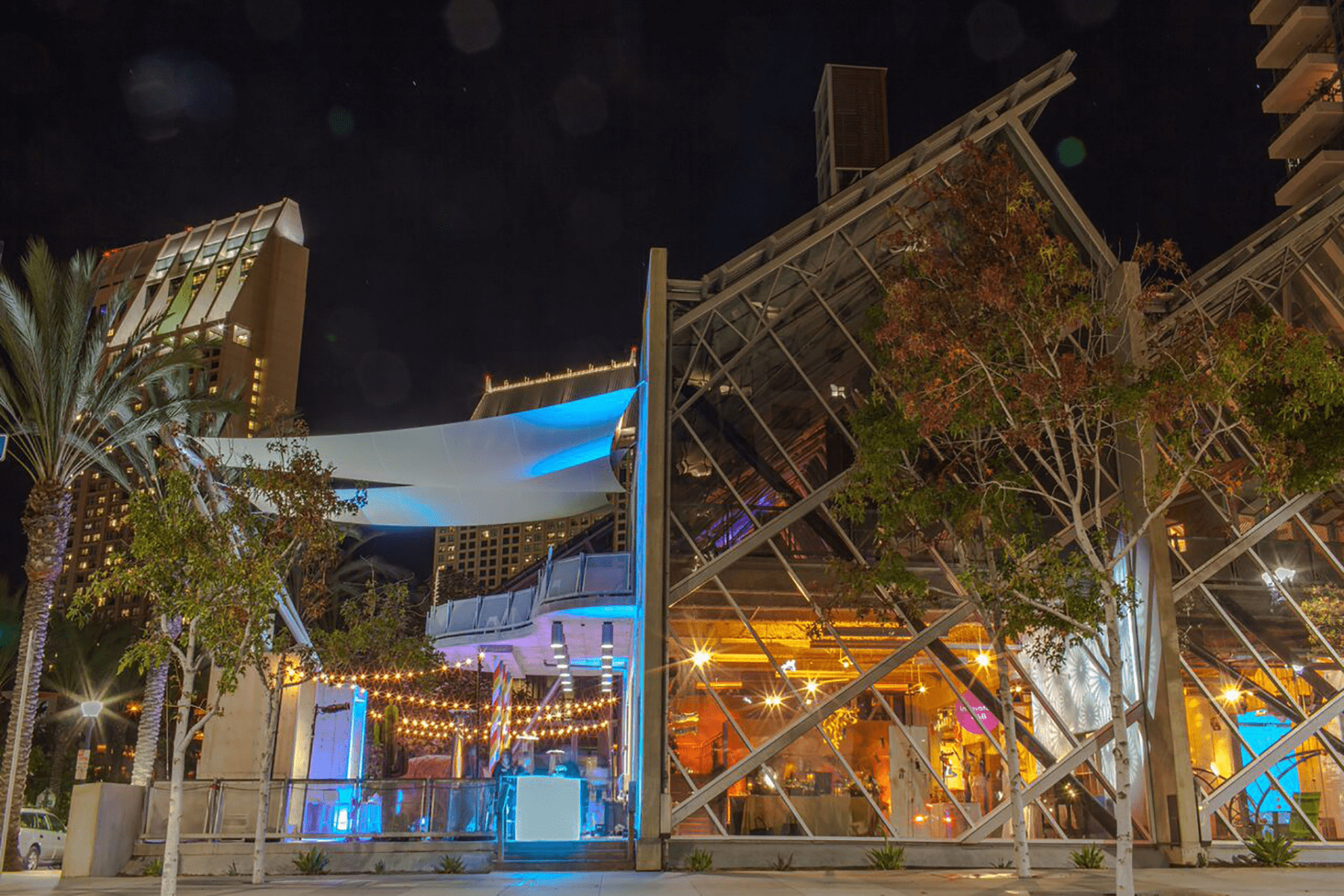 Photo Source: The New Children's Museum 
Location: Downtown
Capacity: 1,000
You can take over the entire New Children's Museum, conveniently located near the San Diego Convention Center, or opt for designated spaces, such as their art studio, the garden or the Upper Level, which looks out on the San Diego skyline. The museum, designed by the well-known local architect Robert Quigley, is green and sustainable. Another reason to support this venue: It's dedicated to stimulating creativity in children.
Photo Source: San Diego Wine & Culinary Center
Location: Downtown 
Capacity: 500
You have plenty of event space options here: wine cellars, a full-demonstration kitchen, and the 3,000-square-foot Sunset Patio—one of the largest patios around. Chef demonstrations and interactive tasting stations are specialities here which can offer a fun focal point to any corporate event.
Photo Source: Parq Event Center
Location: Gaslamp Quarter
Capacity: 50-1,800
The venue now known as Parq first opened its door in 1926 as a Bank of Italy and eventually became the clubbing hotspot On Broadway. Now, it's a sophisticated 30,000-square-foot multi-room event venue with restaurant and nightclub spaces. 
This historic building retains its original crown molding and vault doors to the bank, while the open-air restaurant has its own unique vibe inspired by New York's Central Park. Just for funsies, you enter the nightclub through a grotto tunnel. Once there, you'll find a stage and LED TVs aplenty.
Photo Source: San Diego Convention Center
Location: Downtown
Capacity: 130,000 
This 2.6 million-square-foot behemoth of a facility includes a 90,000-square-foot column-free exhibit space and has an especially noteworthy space in the Sails Pavilion. The room's structure has white sails (hence, its name), serving as a fabric roof that can be color customized thanks to LED lights
Plus, here you have panoramic views of downtown San Diego and San Diego Bay. And did we mention the facility is lined by palm trees? Not a bad way to "work."
Protip: Managing an event in a space this large requires a locked-down event strategy. Our event management software can help with that.
Photo Source: Hard Rock Hotel
Location: Downtown 
Capacity: 1,000
If you like your event rooms, halls and outdoor terraces to have "buttoned-down business amenities with rock 'n' roll style," as Hard Rock Hotel describes themselves, then look no further. The 8,700-square-foot Legends Ballroom is an especially versatile space that can be divided into six equal sections. Built-in colored lights, acoustic panels, and audio and visual capabilities galore add major pizzazz, while the location across from the conference center adds major convenience.
Photo Source: The Tower Beach Club
Location: Mission Bay 
Capacity: 30-1,000
The Tower Beach Club is a sophisticated 4,300 square foot indoor/outdoor event space with a stunning waterfront view of San Diego's Mission Bay beachfront. The remodeled venue opened in 2019 and includes an open-air bar and massive patio, making it a go-to spot for black tie events without the corresponding price tag. Event organizers can choose to bring food and alcohol or have it organized and catered in-house. The sub-dividable beach club and deck make this a great spot for intimate, 30-50 person off-site meetings or larger, 200 person conferences and parties. With the adjacent 10,000 square beachfront lawn, the Tower Beach Club can host corporate picnics of up to 1,000 people.
San Diego Event Venues and Beyond
If San Diego isn't the only city where you host events, check out these venue roundups in other major cities:
Stay tuned to our blog for more event venues in California, Texas or wherever you might host your next event! In the meantime, check out our Event Technology Assessment to see how you can improve your event strategy!