Event orchestration
|
24 January 2018
20 Boston Event Venues Attendees Will Love
Looking for an amazing event venue in Boston? We researched 20 of the most popular and best reviewed venues to save you the hassle.

Founded in 1630 by the Puritans, Boston is one of the oldest cities in the United States and the location of many historical events including the Boston Tea Party and the Boston Massacre. Now, the city has transformed into a cultural and educational hub and is home to 4.8 million people, the most populous location in New England. As the center of innovation and entertainment, Boston features an abundant collection of event venues we think your attendees will love.
In the case that you are planning an event series that takes place in multiple U.S. cities, take a look at our other venue guides. They'll serve helpful resources.
Choosing the right venue that supplements your event goals is a key part of the event strategy. To learn more about selecting the perfect place for your next happening, grab the in the event venue guide below.
Named the "Best High Tech Facility", the BCEC is a great space for your next tech event with free Wi-Fi and 24/7 on-site IT professionals. With 2.1 million square feet of space that contains a 40,020 square foot Grand Ballroom, a 516,000 square foot exhibit space, and 82 meetings rooms, there will a space perfect for your event. A large space like this also allows you to really showcase your event brand.
Located in the heart of Boston, the 176,480 square feet exhibit space includes four exhibit halls, a multi-purpose auditorium, 38 meeting rooms, and a 24,544 square foot ballroom.
Home to the Boston Red Sox, winner of eight World Series, Fenway Park offers a wide range of event venue spaces from outdoor decks to clubhouses that can hold anywhere from 20 to 2,000 people.
Located on Boston Harbor, the Battery Wharf Hotel offers event spaces that are right on the water. Perfect for your next corporate event or social gathering.
Who said your event had to stay in one place? Entertainment Cruises Boston offers a line of cruises for various purposes including Elite Private Yachts. Rent a private cruise ship that can hold up to 150 people with two open-air decks.
Symphony Hall is considered one of the top three concert halls in the United States. And your next event could be at this famous Boston landmark, complete with a performance from the Boston Symphony Orchestra.
The Exchange has a variety of event venues including Harbor Terrace, a beautiful space with a waterfront view. Truly an ideal location for a summertime event.
Looking for a high-energy, dance-friendly event space? Icon Nightclub is perfect for you. At 7,000 square feet, the nightclub/lounge holds around 500 people and offers in-house catering and drinks.
At 33,000 square feet, the Royale Boston has enough space for any type of event and includes state of the art sound and lighting systems. This entertainment complex can transform itself to anything you need whether that be a nightclub, concert hall, or corporate function. It even features one of largest indoor LED walls at 9 ft high and 16 ft wide.
Equipped with a bar, comfy couches, and a view of the Back Bay, Rooftop@Revere is one of Boston's most sought after rooftop spaces. You and your 500 attendees won't be disappointed with this venue.
This fun event space sits under a bright red and yellow tent at The Barking Crab, a casual dining seafood restaurant. Guests will experience an authentic New England dining experience along with great views of downtown Boston. Great for your next company office event or celebration party.
Take a break from the day-to-day office work with a personalized improv show at this comedy spot. Laugh Boston features a 5,000 square feet space and can hold 300 people seated with 13 flat screen TVs, all-inclusive audio visual needs, and extensive catering options. You'll also enjoy customized entertainment from in-house comedians.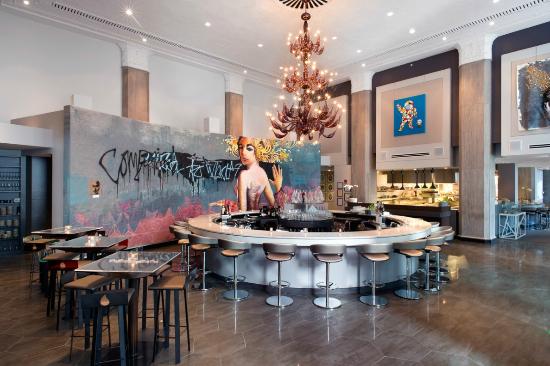 The Liquid Art House brings art and food together to make a truly memorable event experience. With an art gallery, lounge, and visually stunning catered food, this 10,000 square foot space will be perfect for your next large event.

Dine among the dinosaurs at this nationally respected science center that sits directly on top of the Charles River. Outside there are amazing views of both Boston and Cambridge and inside there's a 45 foot long T.Rex and a hovering Apollo module. You and your 4,500 guests will never forget this event.
Experience this one-of-a-kind space featuring a 200,000 gallon Giant Ocean Tank as the centerpiece of the venue. Dine and chat while fish and sharks swim by next to you. Whether you are holding a private dinner for 30 or a corporate event for 2,000, the New England Aquarium can fulfill all of your event needs.
Just sit back and relax with this event space as a special events team takes care of all of your needs from preparing a customized catering menu to ensuring all the audiovisual equipment is set up. Three configurable rooms with a view of Boston Common are available over 2,400 square feet.
With over 30,000 square feet of meeting and event space in 21 function rooms and two executive boardrooms, the Hyatt Regency Boston is great for conferences. Along with a sky-lit terrance, the event package also includes personalized catering, audiovisual equipment, and a professional planning team. The versatility of this venue and wide options of smaller spaces also makes for a good stop on an event roadshow. 
See the entirety of the city of Boston at the top of The Skywalk Observatory. Holding up to 1,000 guests, this event space has uncomparable views and featured dining for the Top of the Hub restaurant.
Ranked as one of the best universities in the United States, Boston University features a huge variety of event facilities ranging from academic to performance to recreation. Whatever you need, BU will have it.
This Boston Hotel encompasses more space than any other hotel in the city with 180,000 square feet. Seaport boasts a huge selection of venues including 4 function spaces, seven ballrooms, an exhibit hall, amphitheater, private dining rooms, and outdoor gardens.
Wrapping Up: 
This selection of Boston event venues is meant to offer a wide variety of space, design, and functionality to accommodate your event vision. Remember that the most important factor of an event venue is how well the space can facilitate your overarching event goals. Being intentional with your event strategy and assuring that each part aligns with the overall vision is key to event success.
An equally important key to event success is to stay atop of the trends that are constantly shaping the industry.  For more on how certain event trends will continue to shape the space, click below to grab our 2018 Biggest Event Trends ebook.